5 MIN READ
Published 05/29/2018
Support through transition: Public schools and transgender students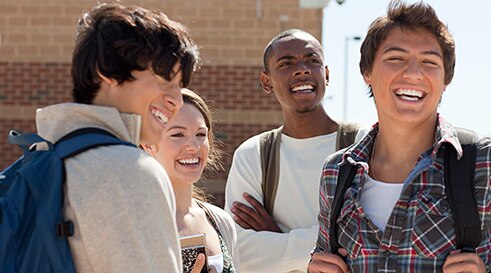 Public schools are tasked with providing every student with a safe, supportive, and inclusive learning environment. However, in a time where political and cultural norms are rapidly shifting, many students can find themselves isolated or victims of bullying and discrimination due to race, sexual orientation, and gender identity. With increased visibility on gender identity and rapidly evolving laws regarding transgender students, it's critical for educational institutions to stay informed when developing policies and procedures aimed at supporting the needs and rights of students including transgender youth. By being proactive in addressing transgender student concerns before they arise, you can help to ensure your school provides a safe, discrimination-free environment for all students under your care, while maintaining compliance with federal, state, and local laws.
Every student has the right to a quality education and to express their own unique individuality in a safe, protected learning environment.
Key focus areas for schools
Students enrolled at public schools spend a great deal of their time under the care of the institution's environment. However, for many educators and staff, it can be a struggle to understand how all can support and protect the needs of particular students, including those who are transgender.
Learning how to create a discrimination-free safe learning environment for transgender students can help send a message of acceptance in today's schools. To help, the following are key areas on which schools may wish to place a particular focus when establishing and evaluating current transgender processes and procedures.*
Understanding specific definitions

Terms used to describe transgender characteristics are still being developed, many of which are not currently defined by law. Unfortunately, these definitions are often broad in scope, allowing them to be interpreted however individuals understand them. When discussing issues and developing policies and procedures, educators, administrators, and other stakeholders should be educated on the proper terminology. The following common definitions are currently being used by the courts, the U.S. Department of Education, and other groups with educational equity expertise:

Gender identity. A person's inner sense of being male or female, regardless of sex assigned at birth.
Transgender. A term that describes people whose gender identity or gender expression is different from their assigned sex at birth.
Gender expression. The way a person expresses gender to others in ways that are socially defined as either masculine or feminine through behavior, clothing, hairstyle, activities, voice, or mannerism.
Gender non-conforming. People whose gender-related identity and/or gender expression do not conform to the social expectations or norms for a person of that sex assigned at birth.
Transition. Describes the long, often complex process of changing one's birth-assigned sex to match his or her gender identity.

Restroom and locker room use. The rules regarding the use of restrooms, locker rooms, dressing rooms, and dormitories for transgender students has recently changed under federal law and can differ greatly from state to state. According to the National School Boards Association (NSBA), schools should approach this issue with a careful understanding of the law and with respect to the rights of transgender students, ensuring a safe and comfortable private space that isn't limiting a student's opportunity to participate in activities.
Student dress codes. All students have the right to dress in accordance with their gender identity, within the constraints of the dress code adopted by the school. Staff must not enforce a school's dress code more strictly against transgender and gender nonconforming students than other students. Dress codes containing gender specific provisions may be considered in violation of Tile lX, free expression rights or equal protection rights, or state civil rights laws.
Accommodations for overnight field trips. To date, there is no federal legal authority regarding overnight room assignments for transgender students. In addressing this issue, the NSBA recommends schools look to standard privacy rights criterion that is recognized by the courts in non-educational situations involving undressing, toileting, and showering.
Internet filters on school technology. Many schools use internet filtering software to block certain content deemed offensive, obscene, or harmful to minors. Unfortunately, those same filters can also block nonsexual websites with informational LGBT content. In the landmark case of PFLAG v. Camdenton R-III School District, the federal court ruled that when a school district intentionally uses a discriminatory filter, it is engaging in viewpoint discrimination, putting the school in violation of the Equal Access Act by not allowing students access to online educational and organizational resources. It is the responsibility of the school to ensure its internet filters are not unknowingly blocking a student from accessing the information they need to learn.
Understanding state and federal laws
State and federal laws on how public schools should accommodate transitioned students vary throughout the country and are in a constant state of flux. As updates continue to develop, schools must always be cognizant to address issues in a manner that is nondiscriminatory, providing a safe and respectful learning environment for all students.
Title IX. Transgender students are protected from discrimination, bullying, and harassment under a number of federal laws. This includes Title IX, the federal education law that protects students from discrimination based on sex. The law extends outside the classroom and includes participation in extracurricular activities such as athletic programs and clubs. Although the law doesn't specifically use the term transgender, courts have held that harassment and discrimination against transgender and gender nonconforming students constitutes sex discrimination and schools are subject to potential enforcement action by the Office for Civil Rights (OCR).
Under federal law, every school district is required to designate an employee to act as a coordinator in overseeing compliance with nondiscrimination laws and policies, including the documentation of related complaints and concerns. In addition to the enforcement of Title IX, the OCR conducts compliance reviews to investigate possible systemic violations in a school's policies and procedures. Schools and universities looking for assistance in voluntarily complying with the law can download the Title IX Resource Guide to better understand their obligations under the law.
The Equal Access Act. The Equal Access Act requires equal access to all student groups in any non-curricular group. Today, the laws is used to support the right of students to organize gay/lesbian/bisexual/transgender support groups and to ensure transgender students have equal access to all school programs and activities.
The Family Educational Rights and Privacy Act. The Family Educational Rights and Privacy Act (FERPA) is a federal law that protects the privacy of student education records. It permits parents or eligible students to review education records and to request that the school change "inaccurate" or "misleading" records or records in violation of the privacy rights of the student. At this time, federal laws don't directly address name and gender changes in a student's permanent record, and state laws currently remain in development. In the interim, the NSBA recommends consulting with your state school board association and school attorney prior to making a decision or adopting a policy on student name and/or gender changes in a student's permanent record.
Every student has the right to a quality education and to express their own unique individuality in a safe, protected learning environment. Today, educators and administrators must work together to help all students, including transgender, feel safe from bullying and discrimination, understood and supported while at school, in an environment that avoids all types of stereotyping.
For updates concerning transgender youth in schools, educational institutions should look towards their appropriate state and national organizations such as the state board of education, the National School Boards Association, and the American Civil Liberties Union to ensure compliance with applicable federal, state, and local laws. Enlisting education experienced legal counsel can also explain protections that your state may have enacted to protect transgender students, review policy and procedure for legal compliance issues and assist in proactively providing guidance to specific situations as they arise.
This website is general in nature, and is provided as a courtesy to you. Information is accurate to the best of Liberty Mutual's knowledge, but companies and individuals should not rely on it to prevent and mitigate all risks as an explanation of coverage or benefits under an insurance policy. Consult your professional advisor regarding your particular facts and circumstance. By citing external authorities or linking to other websites, Liberty Mutual is not endorsing them.