4 MIN READ
Published 10/24/2022
3D printing and the construction industry: 4 risks to manage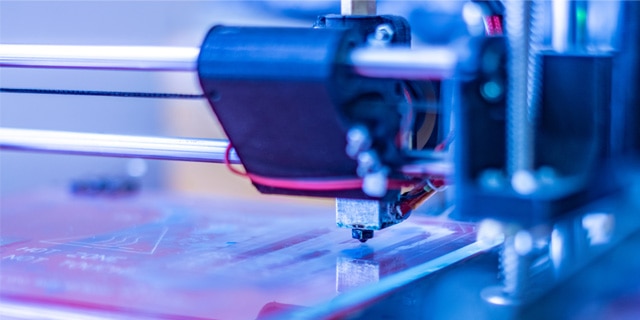 Additive manufacturing (AM) — more commonly known as 3D printing — is the practice of constructing objects using computer-aided drawings (CADs) and 3D printers to create materials that can be used in constructing buildings. The technology for AM is improving every day, with more printing methods and materials being developed for these types of construction. Additionally, load-bearing structures for the civil construction sector may be one of the next innovations in the AM space.
Residential construction has paved the way in 3D printing, but commercial construction, while less common, seems to be gaining ground. For contractors interested in investing in 3D-printing technology, it's important to understand the risks of this breakthrough innovation — and what you can do to help protect your company.
As technology has improved, so too has demand. The market for 3D homes is expected to increase due to post-COVID-19 pandemic-related supply chain and labor shortages, which have increased timelines and costs for traditional construction. Meanwhile, factors such as increased rental prices and limited inventory have put housing demand on the rise.
However, the increased prevalence of AM in construction also brings increased risk for contractors and builders. In this article, we'll explain the risks of this breakthrough innovation — and what you can do to help protect your company.
1. Managing contract liability and insurance challenges
Projects that leverage 3D printing typically entail partnerships between construction companies, technology firms, and manufacturers specializing in this type of production.
These partnerships are often formalized through a joint venture (JV) agreement. In a joint venture, each party has "joint and several liability," which means that each member is jointly and severally liable for any damages on the project, regardless of which party causes them.
Projects that leverage 3D printing typically entail partnerships between construction companies, technology firms, and manufacturers. These partnerships are often formalized via a joint venture agreement, which can introduce contractual and insurance challenges.
Joint ventures can introduce contractual and insurance challenges, especially when leveraging a newer technology such as 3D printing, so it is important to understand the risk-management nuances of this type of arrangement.
For example, potential challenges to consider include:
What happens if 3D-printed work products don't meet aesthetic and engineered expectations of the project owner? If 3D-printed work products cause harm to someone or damage property, how will the JV respond to injuries and claims?
How will the JV cover "rework" costs if the project owner does not approve of the 3D-printed aspects of the build?
As industry standards for 3D-printed building construction are in their infancy, who is responsible for ensuring that the 3D-printed building methods meet the standards outlined by the International Code Council?  
What happens if a claim is filed after the JV is terminated?
Ways to manage contract- and insurance-related challenges include:
Developing a formal JV contract that clearly outlines:

the purpose of the joint venture
the management structure and legal duties of each partner
the financial arrangements such as capital expenditures and profit distributions
the anticipated time frame and how and when the contract will terminate
Establishing how to insure the joint venture. There are different options to consider, which can vary based on cost and impact to each member's individual policies.
Working with your legal department and insurance carrier and broker partners to review all contracts and insurance needs
2. Reducing the risk of occupational diseases and workers compensation claims
New technology in construction means exposing workers to new skills — and new safety hazards. Without proper protection and training on 3D printing, employees may be at greater risk of injuries that result in workers compensation claims. Specifically, these risks can include:
Increased exposure to metal powders, fires and explosions, and high-power lasers
Inhalation of ultrafine particulates and volatile organic compounds (VOCs), including styrene, toluene, methyl methacrylate, and aldehydes
Possible spills of polymers and ceramics, which introduce environmental contaminants to a job site
Use of large, specialized equipment during the building process, which exposes workers to pinch points and struck-by hazards
According to the National Institute for Occupational Safety and Health (NIOSH), risk management of AM requires a holistic approach with consideration given to the type of process, the materials used, and the environment. It's important to note that the risk-management approaches require strong communication between job site supervisors, engineers, and workers to help control for these challenges.
Ways to reduce exposure to 3D-printing hazards include:
Only allow trained or authorized personnel to access and operate AM equipment, and reduce time spent near the printer while it is running. All workers should always wear appropriate personal protective equipment (PPE).
If using 3D printers indoors, add ventilation and use enclosures for 3D printers to capture chemical emissions. Give special consideration to the type of filtration provided (e.g., HEPA, photocatalytic filters) and the location of the exhaust (preferably outside the work area).
Control contaminants using the Hierarchy of Controls to select the process and materials used, with an emphasis on eliminating highly toxic substances and substituting lower-emitting and/or less-toxic materials.
When working around 3D-printing equipment, reinforce safety protocols such as using lockout/tagout when completing maintenance work on the project.
3. Mitigating equipment breakdowns
Equipment breakdowns are a threat for any type of machine or technology and the same is true for 3D-printing technology. Exposure to this risk can occur during delivery, setup, or even during operation. These risks are driven mainly by:
The high cost ($50K to $1M for a powdered metal commercial 3D printer) and relatively prototypical nature of the printers, which can tempt owners and managers to cut corners
Potential fire hazards, depending on the material used and the energy used to operate the printer, such as oil-based hydraulics
Damage in transit, including moving equipment between job sites
In addition to the high cost of replacing a damaged or prototype printer, contractors could be forced to delay projects for weeks as they wait for a replacement.
To help mitigate these risks, contractors should:
Maintain printer and equipment according to manufacturer specifications with regularly scheduled maintenance completed.
Leave room in their schedule to account for potential mechanical breakdowns.
Maintain relationships with vetted service and repair contractors to support their operations.
4. Protecting against construction defects
Construction defect claims typically arise from failures involving defective design, nonconforming building materials, improper installation methods, and maintenance oversights. Mixing traditional building materials (such as windows and doors) with 3D-printed materials like walls can also lead to issues. For example, some windows will only function properly with specific materials outlined by the manufacturer. Defect claims may also arise when using subcontractors unfamiliar with 3D printing.
To protect against possible construction defects, contractors should:
Implement strong quality controls to ensure traditional and 3D-printed building materials will function together as intended. Avoid using materials if there are no instructions specific to 3D-printed projects. If specifications do exist, the costs associated with installation, labor, and timelines (including testing materials on mockups) should be considered in project planning.
Review craftsmanship to confirm that moisture intrusion does not occur after installation, as synthetic materials could prove problematic in areas with extreme weather conditions.
Review plans and drawings with all parties, including subcontractors, using checklists and signoff/on to ensure proper usage and installation. Any testing results should be kept in the project file, per jurisdictional document-retention requirements.
Making the most of 3D printing and economy of scale
Residential construction has paved the way in 3D printing, but commercial construction, while less common, is gaining ground. For contractors interested in investing in 3D-printing technology, it's essential to understand the economy of scale in your industry. Not only is the initial equipment cost steep, but when companies invest in AM, they will likely need to increase their construction work to recoup the costs associated with the investment. And as the projects increase, so do the risks for defects, disruption, and injury. That said, if AM allows your company to dramatically maximize the number of projects it accepts, and to build in harder-to-reach locations, the costs of such an investment might be worth the initial hurdles.
These decisions aren't easy — but you don't have to make them alone. Your insurance provider can play a critical role in helping you identify the risks of working with 3D printing and creating a strategy for moving ahead. Learn more about Liberty Mutual's expertise in the construction industry.
This website is general in nature, and is provided as a courtesy to you. Information is accurate to the best of Liberty Mutual's knowledge, but companies and individuals should not rely on it to prevent and mitigate all risks as an explanation of coverage or benefits under an insurance policy. Consult your professional advisor regarding your particular facts and circumstance. By citing external authorities or linking to other websites, Liberty Mutual is not endorsing them.