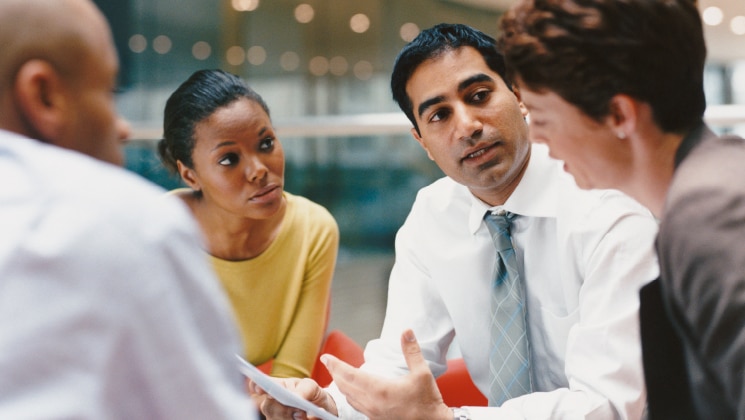 Protecting your business reputation
Across industries and geography, managing a business always comes with risks – including the possibility of lawsuits. Between escalating verdicts and medical inflation, a single slip and fall or property damage claim can drive related expenses sky-high.
Even though accidents can happen in any business operation, you'll gain peace of mind knowing our general liability solutions can help protect the brand, operations, and relationships you've worked so hard to build.
A protective partnership
Solutions for complex risks
From traumatic brain injuries to litigation funding, several risks are complicating the liability landscape for businesses. Whatever challenges are on the horizon, our general liability (GL) coverage can help manage costs that your business could be required to pay as the result of lawsuits related to:
Advertising injury
Bodily injury
Personal injury
Property damage
And because each industry harbors different risks, we offer tailored protection to address your business' specific needs.
Whether someone trips in your parking lot or claims your product caused an injury, you'll be better protected against out-of-court settlements, litigation costs, and court judgments.
Our expertise and experience, backed by an outstanding company culture, make us an ideal partner to manage your company's GL insurance protection.
You'll benefit from knowledgeable underwriters and risk control specialists with a robust understanding of GL loss trends and claim types across industries. And we leverage the skills of dedicated liability claims specialists to help control legal costs and achieve better outcomes.
 We combine this expertise with a customer-centric service approach that keeps your risk-management goals top of mind. When you work with us, you'll benefit from teams who understand your industry and can tailor support to address your business' most common GL exposures.
Better control over claims
When a claim happens, helping your business move forward is our top priority. Our GL claims management approach focuses on delivering results that help protect your company and brand through:
Claims adjusters who specialize in different liability claims types — from low-severity to highly complex — and have experience across industries
General damages and medical pricing tools to help shorten evaluation time
An extensive counselor panel for litigation management
Advanced analytics to review legal bills
Our people are at the core of our success and we empower them to do their best for our customers every day.
From before a suit is filed until after a claim is resolved, you can expect an experience designed for maximum value and minimum hassle.
This website is intended to be informational. Descriptions are provided only as a summary outline of the products and services available and are not intended to be comprehensive and do not constitute an offer to sell or a solicitation. The products and services described may not be available in all states or jurisdictions. See your policy, service contract, or program documentation for actual terms, conditions, and exclusions. Any inquiries regarding the subject matter set forth herein should be directed through licensed insurance professionals.
Coverage and insurance are provided and underwritten by Liberty Mutual Insurance Company or its affiliates or subsidiaries. When we offer insurance products, we will state clearly which insurer will underwrite the policy. Some policies may be placed with a surplus lines insurer. Surplus lines insurers generally do not participate in state guaranty funds and coverage may only be obtained through duly licensed surplus lines brokers.