2 MIN READ
Published 04/30/2018
Auto risks for your public entity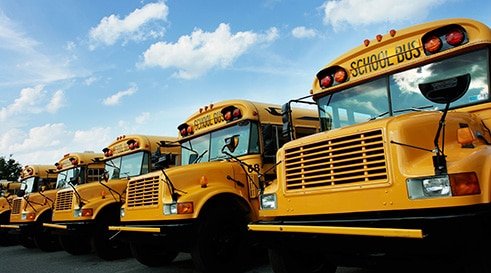 The public sector has the largest owned vehicle fleet in the United States. With nearly 3 million owned cars and trucks, it's even larger than the country's commercial fleet, making today's challenges for commercial auto insurance particularly hard on public entities. But from municipalities to public universities, public entity risk managers can better manage their fleets and minimize the negative impact of commercial auto loss trends, even under tight budgets.
What's driving challenges to commercial auto coverage?
Gaining control starts with understanding the factors that are making auto insurance more and more costly. With these best practices, public entities can better manage commercial insurance exposure, protecting employees, the public, their finances and their reputations.
Develop a single fleet safety program.

Public entities have diverse fleets, including everything from fire trucks to heavy equipment. And different departments often manage their own drivers and equipment, creating mixed bag of practices. Gather everyone responsible for fleet management and driver selection to establish best practices and set fleet management requirements.

Know what's causing accidents across all fleet operations.
Set goals for improving performance by department and as a whole.
Set a detailed plan for managing fleet safety.
Review the plan often so all employees understand the importance of safe driving and know the consequences of failing to comply.
Include a special section on managing school buses if your fleet includes them.


Set and enforce policy for vehicle use.

Clearly define who can use municipal vehicle and when, as well a process for approving use of personal cars on municipal business. Outline minimum insurance requirements for those who use their vehicles on the job.

Hire qualified drivers.

Public entities are often in a good position to gather and update motor vehicle records and other driving-related information on potential or current employees, because they typically have close contact with their local police departments.

Train your team.

Make sure drivers understand your equipment and driver management program, including the consequences for failing to follow procedures.

Monitor drivers with telematics.

Some public entity fleets work with telematics vendors to help manage fuel, equipment recovery and maintenance. These systems can also help you track and improve driver performance.

Review all accidents.

Give each driver an accident kit to collect key information following a crash. For example, immediately after a school bus accident, a driver should confirm all students exited the bus and note the time of the last route checks. This information can help defend your entity against litigation, and improve driver performance.

Check employee driving records.

Set a schedule and stick to it.

Consider increasing primary auto coverage limits.

Despite rising costs, the boundary between primary and excess commercial auto policies has stayed constant at $1 million over the past two decades. This level does not provide sufficient coverage today.
This website is general in nature, and is provided as a courtesy to you. Information is accurate to the best of Liberty Mutual's knowledge, but companies and individuals should not rely on it to prevent and mitigate all risks as an explanation of coverage or benefits under an insurance policy. Consult your professional advisor regarding your particular facts and circumstance. By citing external authorities or linking to other websites, Liberty Mutual is not endorsing them.