3 MIN READ
Published 08/31/2020
COVID-19: More courts are embracing virtual technology while the jury is out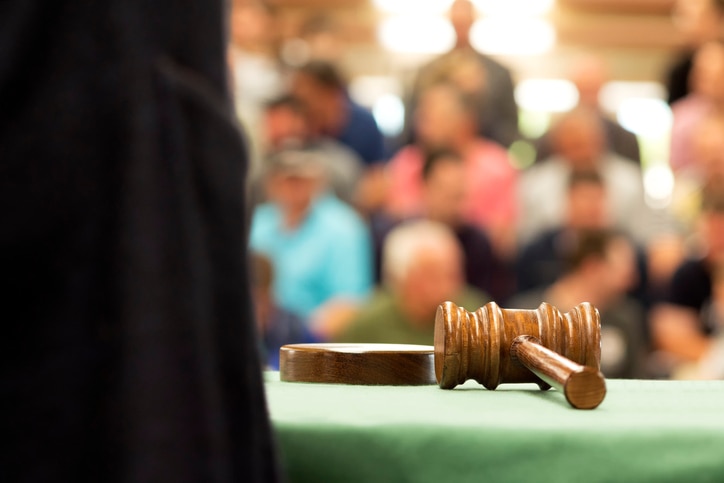 As COVID-19 continues to affect all parts of industry, an increasing number of courts are exploring various virtual tools to address not only backlog of cases put on hold due to the pandemic, but also as a way forward. Kristen McMahon, senior vice president for North America specialty line claims group at Liberty Mutual Insurance, outlines how the courts have been affected by the pandemic and what steps they are taking to address new and on-going business.
Juries are suspended as result of COVID-19.
In mid-March, U.S. federal and state courts ceased normal judicial operations in response to public health concerns related to the coronavirus outbreak. In state courts, jury trials were suspended, and many courts stopped mailing jury summonses. Due to the haunting cloud of uncertainty with respect to the pandemic, the pause on in-person jury trials will likely continue for the majority of state and federal courts until a COVID-19 vaccine is readily available.
State courts responded swiftly to the coronavirus outbreak by issuing mandates that "non-essential, non-emergency" court operations be suspended. Court actions included five steps: ending jury trials; restricting courthouse entrances; ceasing in-person proceedings; granting extensions for court deadlines; and encouraging remote tele/video conferencing in lieu of in-person hearings. To date, very few states have issued orders, plans or guidance to resume "normal" court operations.
Decline in new court filings.
New court filings also declined in the wake of COVID-19. According to a summary published by the National Center for State Courts (NCSC), an independent, non-profit clearinghouse for state court research and comparative data, new civil case filings declined by 41% in March and April 2020 from the comparable two-month period in 2019. Electronic weekly state court filings reported by Tyler Technologies, a leading public sector software provider tracking courts and public safety, mirrored a similar decrease.
Exploring court reopenings.
Now that the U.S. is more than five months into the pandemic, the backlog of civil proceedings on cases filed before and during the period of COVID-19 continues to mount. As society begins to reopen, how quickly can courts restore operations to full capacity? What will all the continuances mean for already-heavy caseloads? Some courts are exploring when to resume issuance of jury summonses and scheduling of in-person jury trials on a staggered court calendar. Courts must also address how best to accommodate jurors where the facility's layout may not allow for social distancing or consider alternative commercial locations to hold proceedings.
Leveraging technology.
Some federal and state courts are embracing technology and holding virtual hearings, depositions, settlement and status conferences to relieve the backlog. While the U.S. Supreme Court did not permit video of its May 2020 oral arguments, it did allow a live audio. Both the Southern District of New York and Eastern District of Virginia recently completed on-line intellectual property bench trials. In May 2020, one Collin County Texas state court conducted a non-binding Zoom jury trial in connection with a hail and wind damage dispute between an insurer and policy holder.
Backlog of civil cases expected to continue.
However, legal challenges to virtual jury selection and/or trials based on the constitutional right to confront witnesses may prevent wholesale adoption of such an approach. In-person examination of witnesses is critical when determining credibility. Moreover, many states are prioritizing criminal and deportation cases rather than civil matters. Thus, many civil plaintiffs are unlikely to see their cases litigated either virtually or in-person before a jury of their peers for quite some time.
Temporary pause in nuclear verdicts.
In the absence of civil jury trials, there has been a pause in the run-away nuclear verdicts that have dominated the headlines over the past few years. While this is a welcome reprieve for corporations and their insurers, we anticipate high verdicts will return as a challenge once courts resume in-person civil jury trials. Also, some opine that there is a willingness by some plaintiff firms to settle their civil claims for more reasonable dollar amounts than during pre-COVID claim cycles due to the courthouse backlog. While insurers continue to monitor the quantum and extent of any "COVID-19 settlement discount" on existing claim inventory, one thing is clear—until there is a COVID-19 vaccine, there will be a precipitous drop in the number of civil jury cases tried for the foreseeable future.
Neither Ironshore nor any other Liberty Mutual company are engaged in the practice of law. The foregoing information is for informational purposes only. It is not a substitute for legal advice from a licensed attorney, nor does it create an attorney-client relationship. The Insurer disclaims all liability arising out of this resource.
This website is general in nature, and is provided as a courtesy to you. Information is accurate to the best of Liberty Mutual's knowledge, but companies and individuals should not rely on it to prevent and mitigate all risks as an explanation of coverage or benefits under an insurance policy. Consult your professional advisor regarding your particular facts and circumstance. By citing external authorities or linking to other websites, Liberty Mutual is not endorsing them.