5 MIN READ
Published 08/25/2022
From supply chains to outdoor barriers: 4 restaurant risks in the post-COVID-19 environment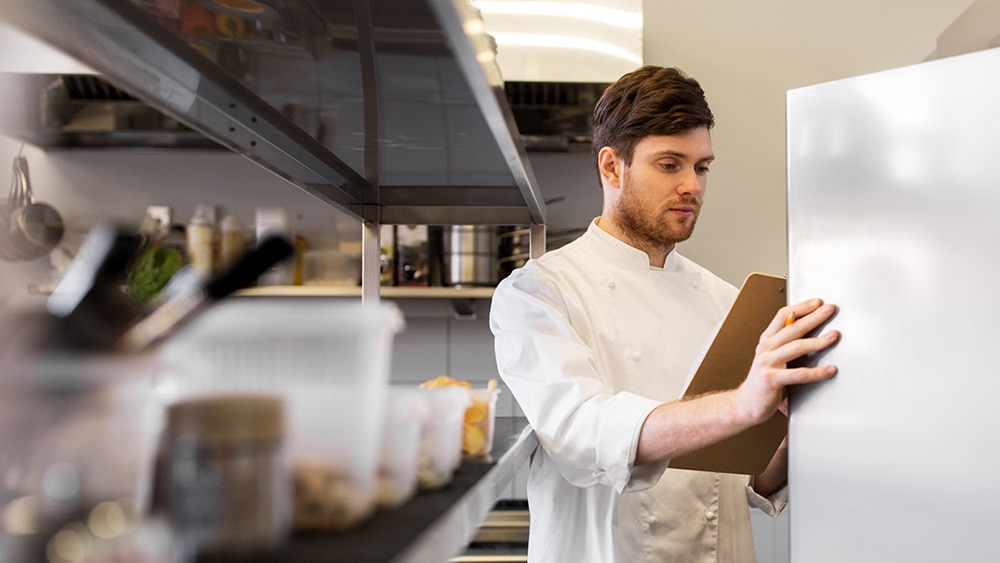 When the COVID-19 pandemic forced most restaurants to close their doors temporarily, the supply chain supporting the industry scaled down to meet the decreased demand. As restaurants open back up and recover, suppliers and their logistics counterparts are struggling to keep up with demand. At the same time, permanent expansion into outdoor dining and increased use of technology are presenting new risks for the industry. Restaurants are finding it more complicated and expensive to continue offering a great, safe customer experience. Follow along as we explore four key risks restaurants face — and how to mitigate them.
1. Labor and supply chain shortages are affecting food safety.
Turnover in the restaurant industry has skyrocketed, with employees sometimes even walking out in the middle of shifts. This revolving door of employees means restaurants are constantly training new staff in food safety procedures. While safety and quality management programs are always a necessity, they become even more critical when a restaurant is changing processes and turning over staff faster than usual.
"While these solutions might seem viable in the short term, working with new ingredients and implementing alternative storage procedures can potentially lead to food spoilage."
Restaurants should regularly review their quality management systems. This includes employee training on quality management and safe food handling. Training should highlight cold storage practices, first in first out storage practices, signs of food spoilage, and necessary cooking temperatures for safe consumption to limit the risk of foodborne illnesses. In addition, employees should understand the importance of personal hygiene, proper cleaning and sanitation, and cross-contamination and allergen risks. The ServSafe food safety program can help proactively manage these food safety risks.
But restaurants aren't just plagued with a local worker shortage. Many processing plants, packaging operations, and food distribution centers are not operating at full capacity, impacting delivery times and raw ingredients' availability. To combat this supply shortage, some restaurants are changing their menus and ingredients, partnering with additional suppliers, and some are even stockpiling perishable items. While these solutions might seem viable in the short term, working with new ingredients and implementing alternative storage procedures can potentially lead to food spoilage.
Food spoilage is a severe issue that affects customers and employees alike. For example, one salmonella or norovirus outbreak might lead to other contaminated supplies, extended closures, and a majorly damaged reputation. Shipping delays can also affect food quality, as food has a higher potential to be improperly handled during extended periods on the road.
"Highlight cold storage practices, first in first out storage practices, signs of food spoilage, and necessary cooking temperatures for safe consumption where foodborne illnesses could be lurking."
To mitigate spoilage risk, restaurants should actively partner with food suppliers to ensure adequate contracts are in place to protect themselves from negligence. Contracts outlining clear communication protocols for each party can help mitigate the risk of last-minute food shortages and promote quality control. Developing a list of approved suppliers can also help in quickly finding the quality food needed to support menus if supplies are delayed or disrupted. And of course, once supplies are delivered, staff should use proper cold storage techniques to prevent spoilage.
2. Equipment availability issues are creating food spoilage exposures and service delays.
While many restaurants are trying to combat improper food storage by purchasing extra equipment, shipping delays mean appliances and new parts often don't arrive on time. Without proper equipment, food storage and preparation can be negatively impacted. For example, a restaurant that has bought additional refrigerators to stockpile perishables might not be able to access the parts necessary to repair them if any break down. Many essential cooking tools have also been affected. According to Forbes, even ovens have become virtually impossible to secure on short notice, and some crucial pieces take as long as six months to come in.
For some restaurants, the long lead time for equipment and parts may even mean the inability to operate current locations or delays in opening new locations, which can also impact brand reputation and financial performance.
"Even ovens have become almost impossible to secure, and some crucial pieces take as long as six months to come in."
Restaurants can prepare for equipment delays by anticipating possible breakdowns and planning for proper maintenance before there's a problem. Partnering with reliable appliance maintenance businesses and scheduling regular testing and tune-ups can limit the risk of surprise appliance failures. In addition, forecasting further out for new equipment and maintaining strong relationships with reputable manufacturers and distributors can also help in reserving critical equipment.
3. Technology use in restaurants increases potential cyber liability.
Many restaurants introduced digital menus, online ordering, and contactless payment during the pandemic as ways to limit personal interaction and cash handling. While increased use of technology allows restaurants to minimize risk associated with the pandemic, it also increases restaurant exposure to cyber liability. Proper cyber coverage should be purchased to protect restaurant owners from the risk of ransomware and phishing scams that could put customer data in jeopardy.
4. Outdoor dining is raising new safety concerns.
Parklets are the outdoor dining spaces many restaurants created in former parking lots and on sidewalks to allow for outdoor seating during the pandemic so restaurants could reopen more quickly once restrictions were loosened. These outdoor dining spaces have grown in popularity, increasing restaurant capacity and potential revenue. They also, however, increase the risk of injury to staff and patrons because they can be close to busy roads. If barricades between cars and diners are not sufficient, one wrong move could lead to catastrophe.
Restaurants planning outdoor dining should review city and state ordinances for permitting and other guidelines. Consider the speed limit of the adjacent street and try to avoid corners where motorists could more easily cause a collision. Concrete and other barriers, reflective tape, and wheel stops can also go a long way in protecting restaurant guests. And, of course, talk to insurance providers to ensure liability policies cover the additional dining space.
Plan ahead to stay ahead.
While restaurants are experiencing added hardships resulting from the COVID-19 pandemic, there are options for mitigating many of the risks associated with them. By implementing these best practices and talking to insurance brokers and carriers about coverage needs, restaurants can help offset the challenges, ensuring their guests are receiving a quality — and safe — experience.
This website is general in nature, and is provided as a courtesy to you. Information is accurate to the best of Liberty Mutual's knowledge, but companies and individuals should not rely on it to prevent and mitigate all risks as an explanation of coverage or benefits under an insurance policy. Consult your professional advisor regarding your particular facts and circumstance. By citing external authorities or linking to other websites, Liberty Mutual is not endorsing them.