5 MIN READ
Published 11/14/2023
How wholesaler distributors can leverage the artificial intelligence revolution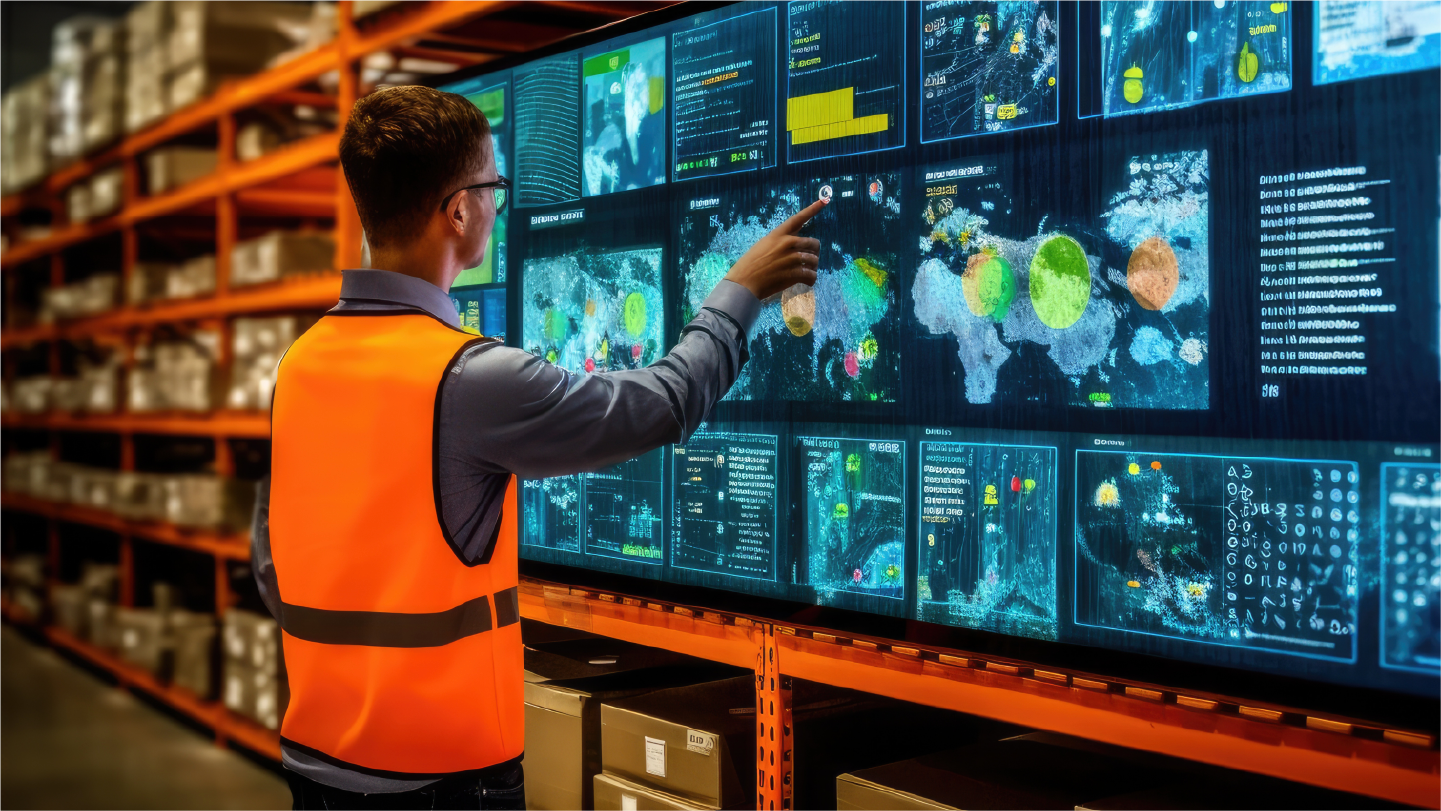 Over the last few years, the economy has fundamentally shifted — especially for the wholesale distribution industry. The pandemic, combined with political instability in key regions, led to labor, supply chain, and production issues that continue to afflict wholesale distributors.
The competitive landscape has changed as well. Wholesale distributors face increased pressure from digital players and the threat of disintermediation as manufacturers and retailers try to improve efficiencies and reduce costs.
Enter artificial intelligence (AI), the catch-all phrase that describes machine learning's ability to develop new capabilities rapidly that harness data in new ways, plus large language and stable-diffusion models that transform the way the world thinks about communicating in words and images. While technology cannot solve all the challenges facing the wholesale distribution industry, artificial intelligence brings the ability to enhance and streamline every step of the process, from inventory and service to shipping — boosting efficiency and reducing cost. In this blog, we'll explore three common challenges facing wholesale distributors, explain how these technologies can help improve these areas, and highlight areas of concern.
Challenge 1: inventory management
For wholesale distributors, managing and planning for inventory is a constant juggling act: overstocking can lead to storage issues and loss, while understocking can equate to unfulfilled orders and lost sales. And when inventory is in a chaotic state, additional perils can emerge, such as internal theft (shrinkage), increased fire load, and rework of packaging that poses an ergonomic exposure due to double handling. Then there are the variables of raw material shortages and fluctuating demand, as well as evolving products and regulations. The end result? Without proper inventory management and planning, the bottom line is negatively impacted.
How artificial intelligence can help
Artificial intelligence technology, combined with advanced robotics, can streamline the entire inventory process, improving order fulfillment, optimizing inventory forecasting and placement, and eliminating the need to scan, enter item numbers, write forms, or use Radio-Frequency Identification (RFID) tags. Video surveillance can also be supercharged with these new technologies. Enhanced by computer-vision technology, wholesalers can leverage 24/7 "smart" monitoring integrated with access control and mass notifications. When implemented correctly, these technologies have the potential to generate efficiencies, improve customer experience, and create a distinct competitive advantage.
Artificial intelligence is not a magic fix. As with all new industrial and professional technologies, you'll need to train your people on how to use it, as a lack of experience with new systems can lead to errors. Sudden changes to processes might also introduce risk of injury or accidents. Be sure to review ergonomics and safety controls when you implement any changes to your work site — even those recommended by artificial intelligence and using robotics.
New technology investment can also create system compatibility issues and disrupt existing systems, such as data feeds and Application Programming Interfaces (APIs). Make sure to evaluate holistically where, and how, artificial intelligence integrates with the rest of your operation. Finally, it's also important to double-check your product liability coverages whenever making any changes.
Challenge 2: customer service
Customer expectation for service has grown immensely in the digital age, and the business-to-business (B2B) world is not immune to this trend. But there is a crucial difference between wholesale and retail customer service. For wholesale distributors, customer relationships are deeper, with commercial buyers looking for both top-quality products and long-term relationships. That entails knowing your customers, offering strong communication, and staying ahead of mistakes and systemic issues.
How artificial intelligence can help
Leveraged wisely, artificial intelligence can provide the boost to customer service that today's customers have come to expect. For example, an AI chatbot can learn about the products and services a wholesale distributor offers, enabling it to:
Respond to customer requests

Solve their technical issues

Provide sales reps with valuable insights, leading to cost savings and better customer service
Today, many technology platforms are designed to help wholesale distribution companies support their sales reps in increasing revenues and personalizing customer service via artificial intelligence. By relying on the vast amount of data wholesale distributors have at their disposal, the platform can offer valuable insights to employees and become smarter over time. And, similar to retail e-commerce experiences, technology can also improve B2B customer experience by using historical purchase data to respond to and communicate product concerns or recalls.
While artificial intelligence and machine learning models have the power to offer deep business insights and drastically improve the buying journey for customers, remember that AI is only as good as the data it pulls from. If the models are based on outdated or unsubstantiated data, for example, the results could yield fabricated, biased, discriminatory, or even offensive outputs. For that reason, it's important to have technical and process controls — that include humans in the loop — to ensure that the customer experience is not adversely affected by technology errors.
While shipping is a critical part of a wholesale distributor's business, many factors are difficult to control. Global factors aggravate supply chains, leading to delays and increased costs. Recent years have brought shortages of drivers and qualified staff, and security is an ever-present issue. On top of these challenges, customer expectations have increased, as we mentioned above.
How artificial intelligence can help
The same artificial intelligence that helps wholesale distribution companies manage inventory can also be used to predict and solve shipping bottlenecks — ahead of time. This type of AI, according to Thomson Reuters, allows companies to "anticipate potential supply-chain bottlenecks much further in advance, formulate up-to-the-minute contingency options, and respond more nimbly to fluctuations in supply and demand."
Shipping is also negatively impacted by safety and maintenance issues with truck fleets. Here, too, artificial intelligence can help, drawing on telematics and internet-of-things (IoT) sensor signals to enable more proactive management of fleet safety and more timely responses to incidents for a more reliable distribution.
Autonomous vehicles represent a whole other category of AI that is on the verge of transforming shipping, with the first self-driving vehicles already being introduced to the market. It is only a matter of time before wholesale distributors can leverage autonomous trucks to provide faster shipping services at lower costs. With future advances, autonomous vehicles could even take over piloting planes and delivering cargo — and, some researchers argue, they will do so more efficiently and safely than humans.
The greater your reliance on technology, the more you will rely on electricity. Be aware of vulnerabilities in the power grid, your own power supplies, and the operation and availability of your vehicles, especially during extreme weather events, and have business continuity plans and business interruption coverages that might protect you from power outages. Restarting an integrated AI system can be difficult or complicated, especially if it is dispersed over a large area or multiple systems. Have a plan for how to restore your systems and keep your business moving if your artificial intelligence models or other technology goes down.
Finally, every technology system in your organization is a potential target for cybercriminals — and AI systems are no different. Be sure to have a plan for cyberattacks and ransomware, including considering cyber insurance.
Powerful partners in uncertain times
While artificial intelligence is poised to bring transformational change for wholesale distributors, like any other new technology it also brings new risks. Customer privacy will continue to be a concern, especially in states like Illinois that have passed biometric laws. The potential for bad actors to hack or trick these systems is also a possibility, especially in the early stages of adoption — and any downtime will be felt in lost sales. Protecting the storage and usage of customer information is critical due to the risks of cybercrime, hard-copy fire, and flood damage. Having an effective cyber and business continuity program is essential to help reduce those risks.
To protect against those risks, wholesale distributors should partner with their insurance provider — proactively. At Liberty Mutual, we've been early adopters of AI, using predictive models on millions of claims and data points to turn vast volumes of data into better decision making for our customers. We also provide comprehensive insurance products, from auto, general liability, workers compensation, and property to specialized coverages like cyber and professional liability, to keep companies protected. In addition, expert Risk Control Services help wholesale distributors mitigate their specific risks. Developed by Liberty Mutual, ErgoValuator is an award-winning risk control app that uses artificial intelligence and machine learning technology to evaluate manual material handling tasks and compare the relative risk of alternative solutions. Learn about your carrier's advanced technology capabilities and what they can do for you.
In uncertain times, artificial intelligence can be a force multiplier for wholesale distributors — and so, too, can Liberty Mutual. To learn more about how we can help your business protect against risk while leveraging AI technology, visit our wholesale distribution pagehere. And to learn more about the concerns and controls for generative artificial intelligence across all industries, click here.
Some jurisdictions have acted or are considering action to regulate artificial intelligence and machine learning platforms. Please refer to the appropriate government authority and/or your own independent legal counsel for interpretation or clarification of any applicable laws or regulations that may bear upon use of artificial intelligence and machine learning technology. No attempt has been made to interpret any such codes, standards, or regulations here.
This website is general in nature, and is provided as a courtesy to you. Information is accurate to the best of Liberty Mutual's knowledge, but companies and individuals should not rely on it to prevent and mitigate all risks as an explanation of coverage or benefits under an insurance policy. Consult your professional advisor regarding your particular facts and circumstance. By citing external authorities or linking to other websites, Liberty Mutual is not endorsing them.
Our risk control services are advisory only. We assume no responsibility for: managing or controlling customer safety activities, implementing any recommended corrective measures, or identifying all potential hazards. No attempt has been made to interpret any referenced codes, standards, or regulations. Please refer to the appropriate government authority for interpretation or clarification.