3 MIN READ
Published 06/23/2018
Traumatic brain injuries: A growing liability claims trend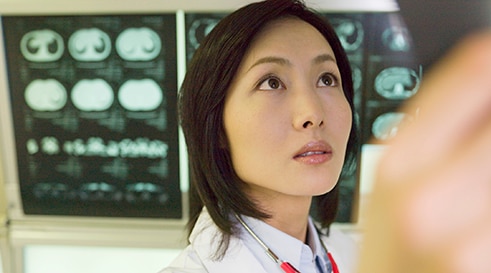 Every year more than two million people seek treatment for traumatic brain injuries (TBIs) in the United States, according to the Centers for Disease Control and Prevention. Another concerning trend is that over a six-year period, TBI-related emergency department visits increased by more than 50 percent. TBIs are typically caused by a bump, blow, or jolt to the head and can lead to trouble with memory, sleep, movement, and vision or hearing, and can cause emotional issues. Although treatments for TBI vary depending on severity, an individual who has suffered a catastrophic injury may require years, or even a lifetime, of specialized care.
The rise of TBI claims and life care plans
TBI claims are being asserted in less serious accidents, such as slips and falls and whiplash from fender benders. One factor driving the increase is growing public awareness of these types of injuries. The high-profile concussion lawsuit between former professional football players and the National Football League and the well-publicized cases of chronic traumatic encephalopathy (CTE) have drawn attention to the serious and sometimes long-lasting effects of TBIs.
Traumatic brain injury claims often include comprehensive life care plans that project potential future needs and costs, which can increase litigation expenses and settlement amounts.
Another factor driving the rise in claims is the potential for large settlements. When third parties, such as businesses, are liable for accidents that result in catastrophic TBIs, litigated liability claims often include life care plans, which project medical treatment and self-care needs and associated costs. These plans can include legitimate needs, but they can also include treatment or care that is not currently being provided and that may not be medically necessary in the future. Therefore, TBI claims with life care plans often involve input from a variety of experts as well as independent medical exams and other tests, all of which can increase litigation costs and settlement amounts.
Subjectivity and TBI claims
Dizziness, lightheadedness, blurred vision, ringing in the ears, and difficulty concentrating are all potential signs of a mild or moderate brain injury. Often temporary in nature, many of these symptoms dissipate as the brain heals. However, in some cases, they could be indicative of a severe and debilitating injury with lasting damage.
Tests such as MRIs and CAT scans can be helpful in determining internal damage associated with severe TBIs, but these screenings have a wide degree of variability. Tests also don't always tell the whole story — brain damage may not be visually present. And because most individuals don't have documented baseline tests of normal brain function, measuring any changes after an injury can be difficult.
With the rise in TBI injuries and growing costs of settlements, businesses should partner closely with their insurers to manage these types of claims. Insurers have experience managing complex liability cases like TBIs and can offer the expertise and resources to properly evaluate and defend legitimate claims and better manage overall claims costs.
Liberty Mutual case managers work closely with on-staff medical professionals and external experts to properly evaluate TBI claims. Roundtable discussions provide the opportunity to talk through cases and develop strategies to resolve or defend them to achieve the best outcomes.
Two ways insurers can deliver better outcomes on TBI claims include the following:
Engaging professional expertise

Timely investigation and thorough evaluation of TBI claims can help drive better outcomes for businesses, so having the right expertise available is critical. At Liberty Mutual, on-staff medical directors and liability nurse consultants help the claims team efficiently address TBI and other complex claims. These professionals understand TBIs, can review medical records and recommended treatment to identify potential issues, and are available to answer case managers' questions. Claims staff also work with external professionals, such as neurosurgeons, neurologists, neuropsychologists, neuroradiologists, pain management specialists, certified life care planners, and independent medical examiners, to evaluate TBI cases.

Providing specialized training and resources

Liberty Mutual has case managers who specialize in complex cases. They receive advanced training and comprehensive reference materials so that they understand the injury and its symptoms as well as how to manage these claims. For example, a case manager will determine whether existing MRI or other relevant tests are available to evaluate a claimant's baseline brain function.
Given the current trends, it seems that TBI claims will continue to be a challenge for businesses and insurers. And although the best-case scenario is to prevent these types of incidents from occurring, businesses that stay informed and that work with an insurer that knows how to manage these cases for the best outcomes can better mitigate their risk.
This website is general in nature, and is provided as a courtesy to you. Information is accurate to the best of Liberty Mutual's knowledge, but companies and individuals should not rely on it to prevent and mitigate all risks as an explanation of coverage or benefits under an insurance policy. Consult your professional advisor regarding your particular facts and circumstance. By citing external authorities or linking to other websites, Liberty Mutual is not endorsing them.