3 MIN READ
Published 11/30/2020
3 reasons to address healthcare worker wellbeing now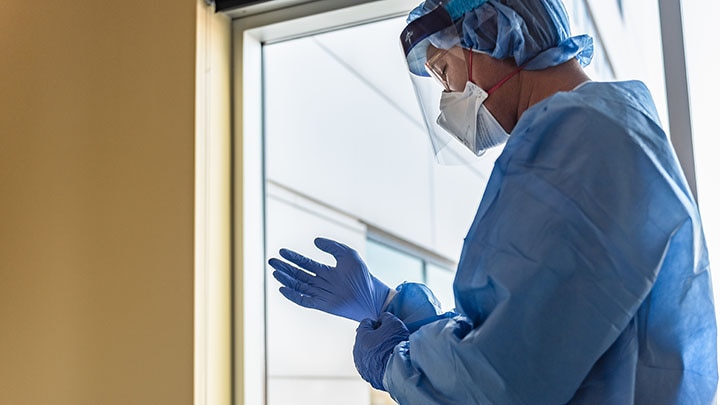 As the pandemic continues to unfold and its duration remains unclear, new evidence is emerging about the deepening psychological impact on healthcare workers' wellbeing.
In a new COVID-19-impact study, researchers at Georgia Institute of Technology and North Carolina State University found higher reported levels of stress, anxiety, and tiredness among healthcare professionals, as well as lower levels of coping and perceived control over their lives. What's more, a striking result was that respondents averaged a depressive-symptoms score that would qualify as clinical depression.
What does this mean for risk managers? New awareness and intensified intervention strategies need to be deployed. Here are three key reasons to re-double your organization's risk-mitigation efforts in this area.
1. The COVID-19 crisis presents unique mental health stressors
Healthcare professionals face greater risk of exposure, extreme workloads, moral dilemmas, and a practice environment that differs greatly from what they are familiar with in normal circumstances. For example, they must confront:
Putting their families and colleagues at risk. While this can be a concern under normal circumstances, there is a heightened fear of healthcare workers impacting their friends and family given the contagious nature of the virus.
Extended and shifting workloads. With hospitals seeing an increase in patients during the pandemic, healthcare workers have been asked to work extra shifts, move to other floors in the hospitals, and take on additional roles and responsibilities.
Limited resources. As the pandemic continues on, healthcare workers are often faced with making difficult decisions about conserving supplies and prioritizing treatment.
Professional emotional toll. With cases continuing to rise throughout the country, healthcare workers are paying the price of encountering an extraordinary death toll and witnessing the anguish of families unable to be physically present while a loved one passes.
Daily issues such as these may weaken confidence in themselves and in the healthcare delivery system – at precisely the time when their ability to perform is most critical.
2. The combination of mental strain and physical fatigue harms health and safety
According to NIOSH, healthcare workers experiencing fatigue can jeopardize their own health and safety – and that of their patients. And that has serious outcomes, including increased susceptibility to:
Clinicians tend to respond well in crisis, but it's often after a crisis mode that related effects arise. According to a study led by researchers at the Stanford University School of Medicine, it's common for doctors to experience lasting symptoms of exhaustion and feelings of reduced effectiveness – and physicians with burnout have more than twice the odds of self-reported medical errors. Moreover, the researchers found that both burnout and medical errors independently double the risk of suicidal thoughts among physicians.
3. The climate of professional liability is changing
Given the impact of COVID-19 care on hospitals, long-term care providers, medical facilities and physician groups, unprecedented circumstances may make healthcare systems' risk profiles look very different today.
High severity losses among U.S. hospital systems aren't new, but recent measures show a developing trend. According to IronHealth's Claim Data Warehouse of hospital professional liability losses, for example, there have been a number of hospital malpractice verdicts in excess of $50 million and a reported increase in average settlements in just the last two years.
And while some governors have issued emergency orders and state legislatures  have acted to shield healthcare providers, giving them certain immunities from liability claims regarding COVID-19, the legal landscape for liability exposure going forward is still emerging.
Even in normal times, working in healthcare is challenging, stressful, and taxing – both physically and mentally. But today's heightened risks significantly change the stakes. Recognizing the sources of psychological stress allows healthcare leaders to develop targeted approaches, provide specific support to their healthcare workforce, and adopt risk-mitigation solutions that match the circumstances. Contact your Liberty Mutual underwriter or service manager to learn more about risk control approaches to support caregivers during this challenging time and help minimize risk. Making counseling and other resources available to overtaxed workers can help during a time when health systems have little flexibility in controlling other factors such as shift duration and deploying workers outside their specialties.
This website is general in nature, and is provided as a courtesy to you. Information is accurate to the best of Liberty Mutual's knowledge, but companies and individuals should not rely on it to prevent and mitigate all risks as an explanation of coverage or benefits under an insurance policy. Consult your professional advisor regarding your particular facts and circumstance. By citing external authorities or linking to other websites, Liberty Mutual is not endorsing them.