2 MIN READ
Published 04/09/2018
Addressing the manufacturing skills gap and seizing opportunity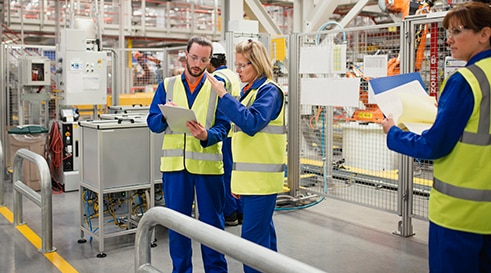 The U.S. manufacturing industry is poised for growth with tax reform, an improved economy, and advances in technology presenting opportunities for businesses. Unfortunately, an industrywide talent shortage and skills gap could keep manufacturers from capturing these opportunities.
A change in workforce demographics and perception
According to a 2017 report by Deloitte and The Manufacturing Institute, the U.S. manufacturing industry could be short by about 2 million workers between 2015 and 2025, and the labor participation rate will continue to drop through 2026 according to the Bureau of Labor Statistics. This shift can be attributed, in part, to the number of workers who are retiring and not enough new talent in the pipeline to replace them. Compounding the issue is the increased use of advanced machinery and the need for technical work, as potential job candidates who are interested in manufacturing may not have the right skills.
There's a perception that manufacturing is not a viable career path because automation is taking over, because it's dangerous, or because many jobs on the factory floor seem repetitive.

— Stacie Graham, Senior Vice President and General Manager, Central Division, Liberty Mutual Insurance
Another factor is the industry's "image problem." According to Deloitte, fewer than fewer than one half of Americans surveyed believe manufacturing jobs to be rewarding, stable, or secure. And because of the increase of automation that could make factory jobs obsolete in the near future, many Americans don't view manufacturing as a viable career path. This has created a number of challenges for manufacturers moving forward.
Bridging the manufacturing skills gap
Manufacturers should proactively address this operational challenge to achieve long-term success. Two potential solutions for addressing the talent shortfall are apprenticeships and collaborative robots.
Apprenticeship programs:
By targeting younger applicants early on, manufacturers can help provide the necessary skills to a talent pool at the beginning of their careers. As an added benefit, if apprentices have good experiences, they'll spread the word among their peers, cultivating a continuing pipeline of talent. Germany adopted this model in the mid-2000s, which helped decrease the youth unemployment rate from 15.9 percent in 2005 to 6.6 percent in 2017. To compare, the U.S youth unemployment rate reached a high of 10.1 percent in 2017. While developing and experiencing the benefits of apprenticeship programs take time, several American companies are finding success. For example, Siemens USA enrolls local high school graduates, providing hands-on training and paying for associate degrees in science or engineering-related fields. Once finished, many apprentices are hired as trainees.
Collaborative robots:
As the name suggests, collaborative robots, or co-bots, are working alongside human workers rather than replacing them. Not only do co-bots boost worker efficiency and reduce the total number of employees on the floor, they can complete tasks that present ergonomic or other safety risks to workers. As a result, employees may be at less risk for injury and can spend more time on higher-level thinking tasks, such as quality control or co-bot programming. Even with these benefits, manufacturers should consider these five areas to mitigate potential risks before adopting co-bot technology.
Planning for long-term success
The manufacturing sector — like many others — needs to invest more in attracting and retaining talent. Apprenticeship programs and co-bots offer two potential solutions to help companies bridge this gap and position themselves for long-term success. By working closely with their insurance partners, manufacturers can better understand potential challenges and coverage needs so they can mitigate risks and make the most of opportunities.
This website is general in nature, and is provided as a courtesy to you. Information is accurate to the best of Liberty Mutual's knowledge, but companies and individuals should not rely on it to prevent and mitigate all risks as an explanation of coverage or benefits under an insurance policy. Consult your professional advisor regarding your particular facts and circumstance. By citing external authorities or linking to other websites, Liberty Mutual is not endorsing them.