3 MIN READ
Published 02/05/2018
Controlling commercial auto losses with a fleet safety program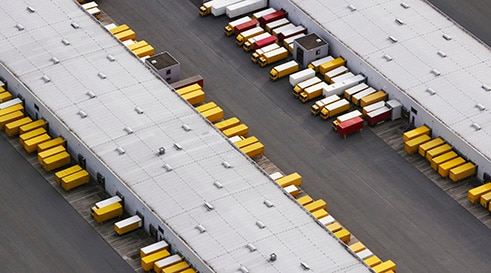 Commercial auto rates have substantially increased over the past few years, driven by increased claim frequency and severity. With the economy on the upswing, there are more vehicles are on the road, driving more miles. Increased activity, paired with distracted driving, means more accidents. This environment, coupled with medical cost inflation and higher vehicle repair/replacement costs, has made it more challenging for businesses to manage commercial auto costs.
The good news is that by considering the following fleet safety program best practices, companies can better protect their drivers, vehicles, and finances.
Standardize pre-screening hiring practices.
Businesses that stringently screen prospective drivers can help reduce liability, and in turn, better manage auto insurance premiums. A good place to start is by establishing motor vehicle record (MVR) protocols when hiring new drivers — and don't be afraid to get tough. Every business is different, and there may be situations where it's necessary to establish stricter criteria, such as a company that transports passengers.
Tip: Routinely review MVRs to ensure that drivers maintain good driving records, and clearly define the number and types of violations a driver can have before losing driving privileges.
Establish a distracted driving policy.
According to a recent poll, distracted driving is viewed as the number one contributor to the increase in vehicle accidents in the U.S. As a standard protocol, a company should establish a distracted driving policy that extends to all workers who drive – whether full-time or part-time, and for those that drive their own vehicles for work purposes.
Tip: A distracted driver policy should be in writing, enforceable, and designed to protect employees and the public. The policy should prohibit texting and other distracting activities while behind the wheel (you may want to consider banning phone use altogether). Don't unintentionally encourage drivers to disobey the policy by asking them to multitask, such as taking work-related calls or responding immediately to emails.
Be consistent with scheduling.
Inconsistent scheduling can cause driver fatigue and increase the chance of an employee being involved in an accident. While schedule changes aren't completely avoidable, it's important for employers to provide as much advance notice as possible, allowing employees to be better prepared and adjust for the change.
Tip: The tolerance for schedule changes will vary among individuals. Try to be as flexible as possible and make sure drivers have enough time to complete their routes to help reduce the risk of fatigue.
Tap into available technology.
Today, there is a wealth of technology businesses can equip commercial vehicles with to help monitor driver behavior, identify root causes of poor driving, and help prevent driving losses. Popular examples include telematics, security systems, real-time GPS monitoring, and dash cameras.
Tip: Look for a commercial auto insurer that can review telematics data and offer other tools to help assess your fleet program, benchmark it against others in your industry, and recommend improvements. This information will allow fleet managers to provide constructive feedback aimed at changing unfavorable behavior and reducing risks.
A knowledgeable insurer can help a business assess its commercial driving program and improve its performance. This includes leveraging telematics data to monitor driver behaviors and identify the root causes of poor driving.

– Peter VanDyne, Risk Control Director, Liberty Mutual Insurance
Establish minimum standards for non-owned vehicles.
A fleet safety program should apply to all vehicles used for company business — even personal ones. If employees use their own cars, ensure that each employee has a current license, carries adequate insurance coverage, and understands his or her responsibility to maintain a safe, road-worthy vehicle.
Tip: Anyone who drives a vehicle on behalf of the company — whether it's owned by the company, rented, or is a personal vehicle — is considered a driver. Maintain a list of employees who are authorized to drive for business reasons.
Establish and enforce crash reporting protocols.
Let drivers know what to do when accidents occur. For example, should a driver involved in an accident contact someone at the company or report it directly to the insurance company? What type of information should be gathered at the scene?
Tip: Review each accident to determine the cause and whether the incident could have been avoided. Understanding the root causes of crashes can help prevent others in the future.
Promote your enterprise-wide fleet safety program.
Driver training can help improving the performance of drivers, but it likely won't resolve all on-the-road exposures. Behaviors such as alcohol use, speeding, and not using seatbelts are often contributing factors in fatal accidents — risks all drivers understand even without training. Consistently communicating your fleet safety program helps reinforce acceptable behaviors and expectations.
Tip: Fleet safety programs should be ongoing for all drivers. Even experienced drivers can benefit from periodic training and reminders of safe driving practices. Consider a mandatory annual or even semi-annual review of your safety program.
This website is general in nature, and is provided as a courtesy to you. Information is accurate to the best of Liberty Mutual's knowledge, but companies and individuals should not rely on it to prevent and mitigate all risks as an explanation of coverage or benefits under an insurance policy. Consult your professional advisor regarding your particular facts and circumstance. By citing external authorities or linking to other websites, Liberty Mutual is not endorsing them.