3 MIN READ
Published 02/18/2021
COVID-19 and occupational exposure: 3 risk-management considerations in healthcare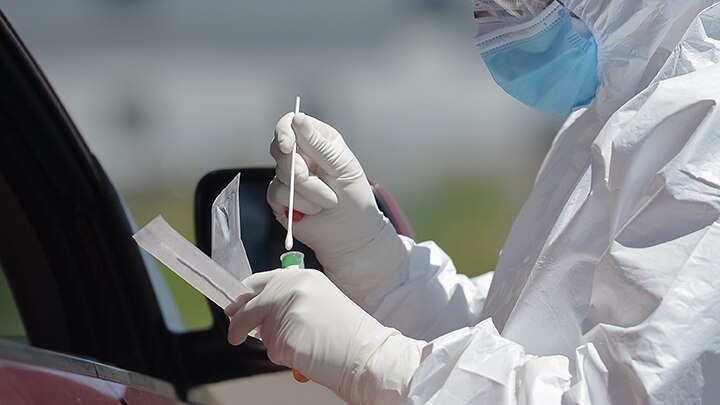 As the COVID-19 pandemic continues, the risk of potential exposure among healthcare professionals remains a dominant issue, even with vaccines being rolled out nationwide. While the evolving situation continues to put pressure on health systems and medical facility decision makers, it also mandates reviews of protocols for healthcare worker safety and support. How should your organization be tracking the risk, mitigating the impact, and preparing for potential workers compensation claims? Follow along to review three top-line issues that must lead today's evolving risk-management plans.
1. Document compliance efforts
Can you provide clear and sustained evidence that your health system implements, updates, and follows the most current guidelines and risk-control measures? Doing so goes a long way toward establishing proof that your medical facility had a preparedness and response plan in place – and took appropriate measures to protect healthcare providers.
For example, recent interim guidance from the CDC addresses risk assessment and work restrictions for asymptomatic healthcare personnel with potential exposures. And the agency's COVID-19 Surge spreadsheet and PPE Burn-Rate Calculator offer tools that may help plan, prepare, and estimate demand for resources – helping hospitals and clinics model potential risk scope. Documenting the usage and periodic review of these tools is an important element for establishing proof of compliance.
Documentation of ongoing compliance efforts should also include:
Posting signage requiring social distancing, hand-washing, and masks;
Screening staff, patients, and visitors for fever and respiratory symptoms before entering your healthcare facility;
Sourcing, supplying, and optimizing PPE – and following CDC use and reuse guidelines;
Leveraging telephone triage, telemedicine technology, and self-assessment tools;
Documenting training efforts, incidents of noncompliance, and steps to enforce safety protocols, such as proper PPE use, social distancing, facial coverings/masks/shields, isolation, and mandatory or voluntary quarantine;
Maintaining notification procedures, stay-at-home instructions, contact tracing, and other actions taken regarding reported cases and possible exposures; and
Keeping cleaning and sanitation log sheets.
Takeaway: When a COVID-claim occurs, solid compliance evidence and timely documentation is critical to navigating the claims process, initiating the case investigation, determining occupational cause, avoiding additional liability, and ensuring a better outcome.
2. Stay abreast of presumption laws
According to ongoing tracking by the National Council on Compensation Insurance (NCCI), more than 20 states have now issued executive orders, directives, or emergency rules related to workers compensation presumptions of compensability in response to COVID-19. These presumptions are largely focused on first responders, healthcare workers, and certain other essential or frontline workers who are automatically considered at greater risk of contracting the virus.
In states that adopt a presumption clause, the burden shifts from the employee to the employer to prove the illness was caused by something non-occupational. Yet NCCI also points out that substantial uncertainty may exist surrounding the extent to which claims for benefits related to COVID-19 will be compensable – chiefly due to varying definitions and requirements associated with refuting the presumption that the virus was contracted on the job or in the course of job-related activities.
Substantial uncertainty may exist surrounding the extent to which claims for benefits related to COVID-19 will be compensable.
Takeaway: Whereas narrow proposals require that workers in other industries have a positive test result or a medical diagnosis of COVID-19 by a licensed physician, the broader legislation provides workers compensation coverage for healthcare providers exposed to the virus. NCCI updates its log of COVID-19 regulatory and legislative activity weekly; you can find it here.
3. Provide timely notice to your insurer
When employees are sick or hospitalized, notifying your insurer might not be top of mind. But delays in reporting can cause workers compensation claim costs to increase considerably, according to a different NCCI report. Research using data from 44 states shows that claims with a lag time of more than two weeks are more complex to settle, take longer to close, and involve a longer period before return-to-work is possible.
As a benchmark so far, however, anecdotal information reported in NCCI's latest research brief suggests the number of claims actually reported to insurers is lower relative to initial projections – and also have relatively small average costs per case.
Claims with a lag time of more than two weeks are more complex to settle and take longer to close.
Takeaway: Follow workers compensation reporting protocols, and file claims right away. That allows your insurance carrier or third-party administrator to promptly investigate and decide on compensability – weighing all the facts and applicable state rules.
Staying prepared and protected
Healthcare providers are managing a host of intensified health and safety protocols in the wake of the pandemic. To prepare for the likelihood of future claims related to COVID-19 exposure, it's critical to monitor compliance and mitigate risk. Liberty Mutual continues to follow the latest guidance and has a summary of COVID-19 resources for healthcare facilities to help you plan and respond.
This website is general in nature, and is provided as a courtesy to you. Information is accurate to the best of Liberty Mutual's knowledge, but companies and individuals should not rely on it to prevent and mitigate all risks as an explanation of coverage or benefits under an insurance policy. Consult your professional advisor regarding your particular facts and circumstance. By citing external authorities or linking to other websites, Liberty Mutual is not endorsing them.