3 MIN READ
Published 04/27/2018
The risks and opportunities of 3-D printing in manufacturing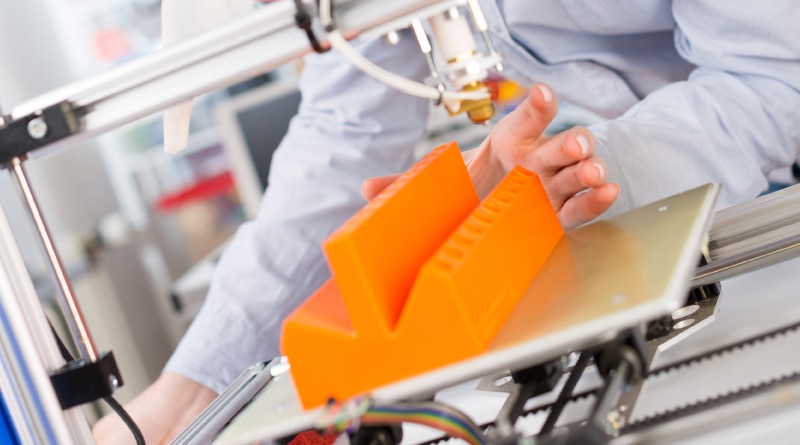 It's a new world and additive manufacturing, or 3-D printing, has already revolutionized the manufacturing industry, making it possible to create a wide variety of products, from auto parts and tools to prosthetics and packing molds. Recent advancements have drastically improved the quality of printed objects while also lowering costs, a combination that manufacturers find very attractive.
This technological advancement offers the ability to boost production and reduce costs, but whenever the manufacturing industry makes a giant leap, new and unknown risks appear on the horizon. In the wake of 3-D printing, manufacturers may experience more claims stemming from worker and third-party injuries, property damage, intellectual property infringement, cyber liability, and — most critically — product liability.
Product liability: Who is responsible?
3-D printing has already disrupted the traditional manufacturing supply chain, and we can expect disruption to both continue and expand. In the face of new raw materials and suppliers, new designs and technologies, new vendors of 3-D printers and technology, and new designers and installers, a big question looms: When problems occur, who is liable?
Consider that end-product defects can now stem from several different causes:
Defective digital design
Defective or corrupted copies of digital designs
Defective 3-D printers
Corrupted materials
Human error in using the 3-D printer and materials
End-user error
If a product fails three years in, who is responsible? Is it a flaw in materials? Is it an end-user or installer error? Is it an issue with the 3-D printer itself? And which entity is responsible? All of these questions will be difficult to answer, and manufacturers that do not plan for these risks could leave themselves vulnerable to potentially devastating liability claims.
3-D printing exacerbates liability
When it comes to 3-D printing, product liability is not the only risk. Let's explore some of the other potential liabilities:
Bodily injury. Just like traditional products, 3-D printed products can expose manufacturers to bodily injury liability. End users are already using 3-D printers to manufacture high-risk goods such as handguns and modular offices. What if a malfunctioning handgun explodes? What if a defective office collapses? Bodily injury claims against the manufacturer will likely follow — and the same is true for countless other 3-D printed products.
Counterfeiting. Counterfeiting already hurts traditional manufacturers, but 3-D printing brings this risk to a new level. With 3-D printers, a counterfeiter can scan an object, make a computer model, and print and sell inferior versions of a manufacturer's product. Besides losing money on investments in R&D, design, and marketing, a manufacturer could also face false claims over products it did not make and suffer reputational damage as a result.
Health hazards. New materials used in 3-D printing expose designers and builders to new health hazards. Many 3-D printers require heated thermoplastic extrusion and deposition, a process that emits aerosol and particles. To avoid employee injuries and related workers compensation claims, manufacturers need to plan ahead about how to handle staff exposure, along with the safe disposal of chemicals and other materials.
Intellectual property. Since 3-D printing enables almost anyone to re-create an existing product design, manufacturers and designers should take extra steps to protect proprietary information and carefully research designs so they do not accidentally infringe on others' existing trademarks, copyrights, and patents.
Professional liability. With 3-D printing, the separation between product designer and producer blurs, so manufacturers should reexamine professional liability insurance coverage needs. Designers will likely need more coverage to protect themselves as their models are widely distributed, interpreted, and configured by end users. Professional liability will also begin to matter more in the specialty fields of health and construction as these industries embrace 3-D printing.
Regulatory implications. 3-D printing is such a major disruptor that it necessitates a whole new category of regulations and standards, but the technology is moving fast, and regulatory and standards organizations are still playing catch-up. Consider that it's now possible to manufacture medical devices in a hospital or university lab — places outside of government-regulated factories. While the FDA recently published for additive manufactured prescription drugs and medical devices, it does not address what entities are considered to be manufacturers and subject to regulatory requirements. As part of a joint effort, America Makes and the American National Standards Institute released a preliminary final draft of an Additive Manufacturing Standardization Roadmap (version 2.0) to help coordinate and accelerate the development of industry-standards and specifications. ASTM International has also created voluntary consensus standards for additive manufacturing technology to help improve the quality and safety of end products. Manufacturers should stay up to date on relevant regulations and consensus standards and revisit production practices and insurance programs as changes arise.
As a platform technology, 3-D printing has the power to launch your company in exciting new directions. But as you rocket into the future, don't forget to protect your innovations, your investments, and your employees. Checking in with your legal counsel and your insurance provider every step of the way will reduce your risk, helping you reap the many benefits of 3-D printing — while avoiding potential pitfalls.
This website is general in nature, and is provided as a courtesy to you. Information is accurate to the best of Liberty Mutual's knowledge, but companies and individuals should not rely on it to prevent and mitigate all risks as an explanation of coverage or benefits under an insurance policy. Consult your professional advisor regarding your particular facts and circumstance. By citing external authorities or linking to other websites, Liberty Mutual is not endorsing them.