3 MIN READ
Published 06/22/2018
Urban warehouses: solving the last-mile delivery challenge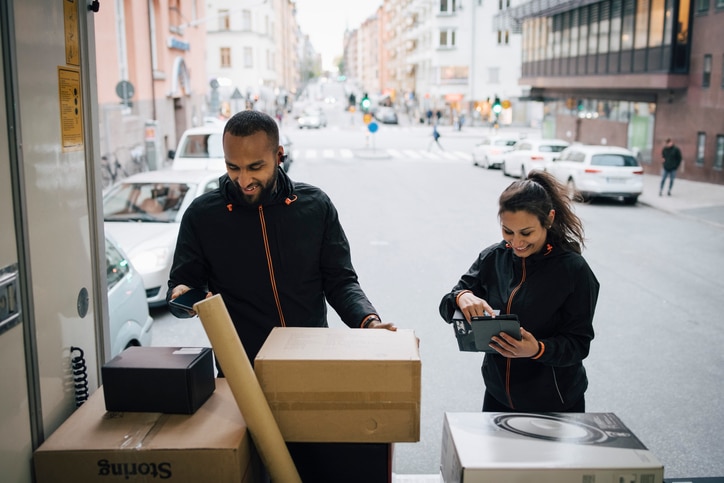 For decades, the primary purpose of warehouses was to store a maximum number of items at the lowest cost possible, a formula that stimulated warehouse development in suburban and ex-urban areas where land was inexpensive and plentiful. Today, however, to stay competitive, businesses need to respond to changing customer preferences that requires the use of "just in time" inventory and distribution systems.
Last-mile delivery—the movement of goods from a distribution center to the final customer destination—is expensive, accounting for up to 50 percent of the total parcel-delivery expense.
Evolving technology, the demand for faster delivery, and a demographic shift of close to 80 percent of Americans living in cities have changed customer expectations and how businesses operate. Even the current "one-click" lifestyle is starting to become obsolete as Americans of all ages employ voice-activated technologies to order products via phones or at-home virtual assistants. In this fast-paced climate, the massive one-story regional warehouses dispersed around suburbia can no longer keep up with demand. Urban warehouses can help fill the gap—but businesses need to overcome several challenges to make them cost-effective.
Reducing total cost of fulfillment
Wholesalers and manufacturers have long known that last-mile delivery—the movement of goods from a distribution center to the final customer destination—is expensive, accounting for up to 50 percent of the total parcel-delivery expense. But the demand for quicker shipping is on the rise. By one estimate, same-day and instant delivery to consumers will make up 20 to 25 percent of last-mile volume by 2025. With these numbers in mind, locating warehouses closer to the final delivery address has multiple benefits, including:
Giving businesses a competitive advantage. In a climate where consumers want their products almost instantly, speed is a major competitive advantage for e-commerce companies. Bottom line? If your warehouse is closer to the customer, your product can get there faster.
Cutting costs overall. Urban warehouses may help lower "total cost of fulfillment," the full cost of moving products through the supply chain. For example, having distribution points closer to customers can minimize inventory carrying costs. In some cities, such as New York, locating a warehouse inside city boundaries cuts the cost of tolls, gas, and traffic congestion.
Even with the potential benefits of multistory urban warehouses, the picture is still cloudy for their growth in the United States. To date, only a few such warehouses are in the works: a three-story warehouse in Seattle, two in New York City—in Brooklyn and the Bronx—and one ready to start construction in San Francisco. Locating a warehouse inside city boundaries can cut the cost of tolls, gas, and traffic congestion but also comes with challenges.
Roadblocks to further U.S. growth include:
The cost of upgrading existing warehouses or building new ones.
Higher cost of land in cities.
Competition for higher-value land use, such as creative office space and residential lofts.
Zoning restrictions and local ordinances governing commercial site locations.
Competition for trained workers in a more saturated urban marketplace.
Neighborhood objections to traffic, trucks, and diesel fumes.
In addition to these operational issues, there are also several safety-related challenges businesses must consider.
Development will depend on demand
Millennials may have helped fuel the demand for even faster shipping, but the online shopping expectations of other demographics are catching up quickly. According to the National Retail Federation, today almost 40 percent of all online shoppers expect free two-day delivery, and most major retailers are paying attention. This trend is forcing businesses to offer two-day and same-day delivery to stay competitive. In the winter of 2017, for example, Best Buy began offering customers same-day delivery at 40 stores by leveraging the crowd-sourced delivery company, Deliv. Target is also promising to extend same-day delivery to half of its stores, acquiring the delivery company Shipt in order to do so.
While many major retailers are jumping into the shipping game, newer, more disruptive companies are continuing to add pressure. Fresh-food delivery companies, like Hello Fresh and Blue Apron, depend on near-instant delivery—and rely on urban warehouses to compete. And urgent demand for urban warehouses already exists in certain cities with younger populations that lack nearby regional distribution centers, including Austin, Portland, and New Orleans.
The needs of companies that rely on fast delivery, combined with pressure on major retailers to stay competitive, is driving up demand for urban warehouses. Another factor is the availability of delivery options in more urban environments, including the growing number of sharing- and on-demand economy service providers in addition to traditional shipping companies. Businesses are also considering less traditional partnerships to quickly get inventory to its final destination—like collaborating with competitors to pool transportation resources or even working with non-transportation companies with idle vehicles.
Taken together, these factors point to a long-term trend, rather than a passing fad—it seems likely that urban warehouses are here to stay.
This website is general in nature, and is provided as a courtesy to you. Information is accurate to the best of Liberty Mutual's knowledge, but companies and individuals should not rely on it to prevent and mitigate all risks as an explanation of coverage or benefits under an insurance policy. Consult your professional advisor regarding your particular facts and circumstance. By citing external authorities or linking to other websites, Liberty Mutual is not endorsing them.