6 MIN READ
Published 02/01/2021
Six things to consider as your small construction business grows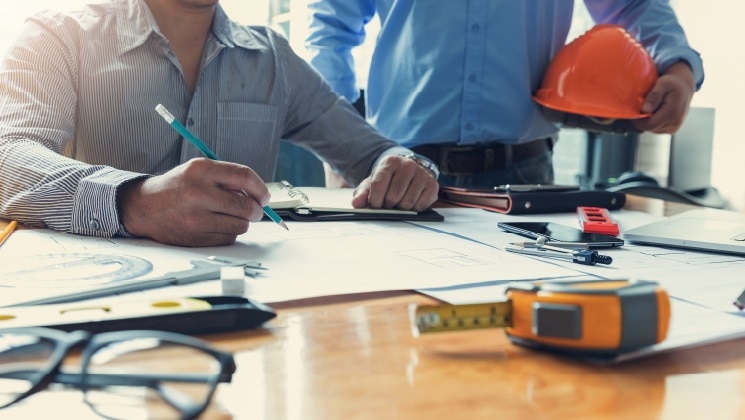 The pandemic has put a pause on everything, including construction. But eventually business will begin picking up and you'll be asked to bid on multiple projects. Some may be right in your wheelhouse while others may differ from what you are accustomed to or be larger than you are used to. How can you be sure you are ready? Well, you might never be sure, but there are steps you can take now, during this lull, to position your organization for future growth and success.
1. Invest in internal accounting capabilities
Building is your expertise, not accounting. Right now, you are managing everything in your head or in spreadsheets, and it's working fine. But as you look to expand your business with more and bigger jobs, it will get harder and harder to track all project costs, profitability, and progress. Make sure you invest in a more sophisticated accounting system now, before your Excel file becomes too big to open!
Cost accounting systems can generate reports which allow you to track project numbers for comparison to your original budget and a project's progress. Regularly reviewing costs with project managers can help you identify potential problems in time to make adjustments, possibly avoiding a profitable project turning unprofitable. Such systems can also create balance sheets and income statements at the push of a button, allowing you to track changes in assets, liabilities, billing status and overall profitability
2. Improve fiscal year-end financial statement quality
This is different than your everyday accounting system mentioned above. What we're talking about here is going above and beyond the tax returns expected from you April 15th. As your business grows, you'll need an independent Certified Public Accountant (CPA) to prepare financial statements annually at a minimum.
While sureties and other creditors may require this level of detail, you are the one that really benefits the most from having CPA statements prepared. They can be a great way to gauge the effectiveness of your internal accounting capabilities. In preparation of a CPA statement, the CPA will interact with your internal bookkeeper and may make suggestions on how to improve your internal accounting systems. The also provide an independent second set of eyes that can catch financial irregularities, including theft.
3. Obtain an unsecured bank line of credit (BLOC)
Stuff happens. Whether it's a once-in-a-lifetime pandemic or a lack of new work, most contractors will experience unexpected cash flow shortages at some point. When it happens, you need a source of liquidity to hold you over. Get a bank of line credit now, when you don't need it. If you wait until you're short on cash flow, you may be turned down, offered unacceptable terms, or end up paying exorbitant interest rates.
An unsecured BLOC or one secured by a basic Uniform Commercial Code filing is the optimal arrangement. Lines secured by long term assets such as real estate are also acceptable. Try to avoid secured line arrangements which are secured with liquid assets. Such lines may restrict your ability to access those liquid assets thereby negating much of the line's benefit. Your BLOC size should increase as your backlog grows, so it is important to regularly revisit the arrangement.
4. Have a business continuity plan in place
The unexpected death of a small business owner can be disruptive in the best of times, but the result can be catastrophic if there isn't a continuity plan in place. Spouses, employees, customers, and suppliers will all feel the impact.
Employees may find it difficult to finish jobs due to a knowledge gap left by the owner. They may abandon the business if they don't see a future for it, leaving colleagues and customers in the lurch. If there are multiple owners, remaining owners may need to finance a buyout, which often comes from the business and results in crippling financials. Even worse, spouses could be left with complex business issues to navigate, in addition to dealing with their grief.
A business continuity plan can alleviate much of these unnecessary scenarios. Continuity plans clearly lay out what happens when an owner passes away, and how various risks will be addressed. Whether it is a detailed plan for stock buyouts, or a process for implementing employee stay bonuses to ensure work gets completed, business continuity plans are instrumental in keeping a business alive.
Another area to consider is a key person life insurance policy. These policies offer a death benefit that can help cover financial losses that occur should a key person pass. This is another way to assure continuity of the business for employees, customers and creditors.
Construction company owners should consult their legal counsel to get a continuity plan created.
5. Be selective about the jobs you take
It is tempting to say yes to everything but growing or expanding too quickly could result in contractor failure. In fact, this is one of the most common reason contractors go out of business. Don't chase projects outside your normal operating territory or take on much larger or different types of jobs.
Incremental and paced growth in total backlog and job size is key. It gives your organization time to gather all the necessary elements required to take on larger projects and work programs, such as the accounting capabilities or BLOCs mentioned above. It also gives your staff sufficient time to prove their capabilities. Slow and steady wins the race.
6. Require bonding by your subcontractors
While taking on larger and more complex jobs may be the one reason contractors fail, subcontractor failure can also put your operation in jeopardy, especially when their work is integral to the job. When a subcontractor fails, it isn't unusual for them to leave unpaid bills for supplies and labor, which often becomes the responsibility of the GC. You will also often have to find sub replacements which can be costly. One way to protect yourself is to require bonding for your subs.
If your sub is bonded, your sub's surety is responsible for paying unpaid bills and for completing jobs at the contracted price. This alleviates the negative impact to your business and keeps the project progress and profitability on track.
These are just a few of the ways you can plan for growth. There are many others including protecting yourself from cybercrimes and making sure you have check and balances in place when estimating, signing contracts, and managing finances. The bottom line is that you shouldn't wait until you are so busy you can't find time to put these controls in place. Take advantage of this down time!
As always, please work with qualified accounting, legal, and risk management professionals to determine what steps are most appropriate for your business.
This website is general in nature, and is provided as a courtesy to you. Information is accurate to the best of Liberty Mutual's knowledge, but companies and individuals should not rely on it to prevent and mitigate all risks as an explanation of coverage or benefits under an insurance policy. Consult your professional advisor regarding your particular facts and circumstance. By citing external authorities or linking to other websites, Liberty Mutual is not endorsing them.